Want to escape Delhi heat and breathe some fresh air?
Here our selection of offbeat weekend destinations! All the places can be reached by bus within one night. Perfect to escape the busy city at an affordable price!
Kolti Camp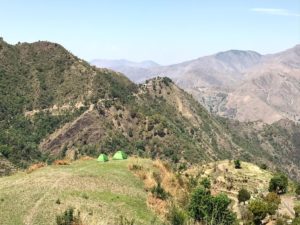 Pitch your tent near Landour. This beautiful village is at 2 hours trekking distance from the famous chardukan of Mussoorie.
Around 2500rs for tent and food.
---
Bir Billing Paragliding
Himachal tourism has now direct buses to the best paragliding spot in Asia! Numerous guest houses have opened.
We like www.namlanghimaltourism.org who helps Tibetan refugees and local people with its 12 cottages. At 1200rs/night.
Toy train from Pathankot (7hours ride) is a must-to-do also!
---
Gaunap – Idyllic Haven Homestay
This ecostay is at 1-hour trek from Binsar Wildlife Sanctuary. Opened in 2005, discover this beautiful village with its organic vegetables and ayurvedic plants. Real heaven!
1700rs per person with all meals included.
---
Not on Map
www.notonmap.com has different interesting stays to offer you. We have tried
H20 House
It is near Chamba with a small river literally crossing the guest house. They produce their own flour, best chapatti! You can take a fresh bath in the river just down your cottage.
The Clay Muse
near Dalhousie, at 30min trekking distance from Panchpula. Sleep near the bears!
Around 2000rs.
---
Guler Heritage Nature Camp
This camp is host inside a heritage property that the owner tried to restore slowly.
You can camp or stay in one of the bedrooms which has been restored.
Perfect for wildlife observer. Have a boat ride on pong dam, India's largest artificial lake and observe the birds.
www.facebook.com/Guler-Heritage-Nature-Camp
Around 2000rs.
---
Jilling Estate
At 45 min trek from the nearest road, Jilling is not far from Nainital. Estate is perfect for a long day trek. Meet the owner Steve Lall, an ex-fighter pilot, a former tea planter, rebel, environmentalist, and mountain biker! He has a lot of stories to tell!
Cottage on top is so cute!
3500rs per person all meals included.
---
The Cottage Jeolikot
Near Pathankot, this cottage is an easy place to go for a short weekend.
The hostess is the architect herself of this original house.
Between 4500 and 6000rs.
---
Seclude
www.seclude.in is another website specialized in out of the beat destinations.
We have tried the one in Palampur, nested in the middle of the tea plantations. Beautiful house!
Around 4500rs.
---
Walterre resort
In Dehradun, in the cantonment, this boutique resort is perfect for a lazy weekend reading books in the garden.
Around 3500rs for a double room.
---
Andretta
Andretta is a village of artists nested in the foothills of the Dhauladhar range.
Stay at the Mirage for a yoga retreat or take a pottery class at Andretta Pottery with Mansimran Singh.
andretta-pottery.business.site
---
Naggar
Before Manali and its crowd, discover the lesser-known Naggar and its castle!
www.raginicottagesnaggar.com has an excellent chef!
Around 2500rs.
---
Pragpur
Heritage village in Kangra Valley, Pragpur is like no other village in India! A must see!
The Judge Court is a beautiful manor to stay or have a lunch, with a pool!
Around 6000rs/night
---
Tirthan Valley
Near the Great Himalayan National Park, the valley has many nice accommodations to offer.
Raju Bharti's Guest House is in middle of the river that you have to cross in a trolley!
www.facebook.com/rajuscottage.goshaini
Around 2000rs per person all meals included.
Or go to camp inside the park! himalayanecotourism.in offers different options of treks in respect with nature and men.
---
Landour
On top of Mussorie, the cantonment area, Landour, is much quieter with a very British feeling.
Domas Inn is an excellent guest house, with a Tibetan touch!
www.momotours.com/doma-inn.html
around 3000rs/night.
Char Dukan is the best place for an early morning breakfast or some Maggi!
---
Pahadi house
An eco concept stay near Mussorie. Around 6000rs with breakfast and dinner.
---
Sonapani Himalayan village
Near Mukteshwar, enjoy a scenic spot away from the tourist track. The hosts are extremely friendly!
Around 6000rs with all meals.