The different types of Visa for India
You are in India for tourism: tourist visa – from 3 to 12 months – multiple entries possible.
It exists since 2015 an online visa application for e-tourist visa: indianvisaonline.gov.in/visa/tvoa.html
Please note that visa is valid for only 30 days (not one month) and it has to be requested at least 4 days before your arrival. A confirmation email will be sent. The visa will be attached once arrived at immigration.
You study in India: student visa.
You work in India (or well paid internship): employment visa. It is mandatory to register with the tax service in India and pay taxes.
A minimum salary of 25000USD per year is required.
You come to work or to do an internship in a NGO or you are following the holder of an employment or a business visa as spouse or children: entry visa.
You come to create a company or you are sent by your company to prospecting, achieve commercial operation: business visa.
You come for an internship. For many countries, we must now go through the Aiesec organization to sponsor the internship and get the visa. Without them, no visa for your internship. They charge the student about 100 euro and between 8000 and 20000rs the company. With the price of visa, costs go up fast! You will then obtain a business visa.
How to get a visa for India?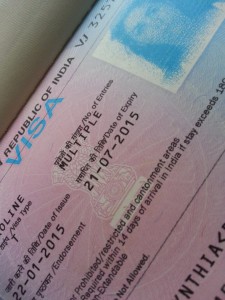 First, make sure your passport is still valid for the duration of the required visa and it has two blank pages.
Visas for India have to be requested though VFS organization in most of the countries: www.vfsglobal.com
Generally you will need to provide at least the following:
– Photocopy of your passport (only the double-page of your identity)
– Passport photos to the Indian government standard (50 mm x 50 mm)
– Whatever the desired visa, this form must be completed: indianvisaonline.gov.in/visa/info1.jsp