Backpack or suitcase?
The backpack, good option for a trip in India, especially if you're roaming. It is easier to carry in trains, buses and other public transport. The roads in India are not always paved therefore having to pull his suitcase with wheels is pretty compelling.
It is important to check the allowed weight of checked luggage to avoid any unpleasant surprises at the airport. Weight varies according to the airline.
How to prepare your suitcase?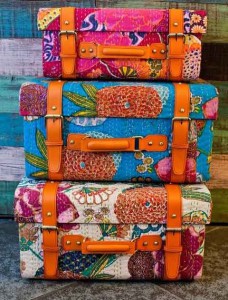 It  depends on the period on which you reside in Delhi. You should know that Winter can be cold. Winter lasts from mid-December to end of January. Your warm clothing can be helpful in case of excessive air conditioning in your office (common) or if you go in the hills.
For girls, it is best to avoid the skirts and necklines even if heat invites to dress our summer outfits. Always cover the legs and shoulders except in South Delhi. The linen trousers or harem pants can do the trick. Also t-shirts in cotton, long vests or long skirts. This will serve you if you visit religious monuments!
For boys, shorts are usually not accepted in religious monuments. You will see very few Indians wearing short pants.
A scarf to protect from pollution and dust. If you take the tuk-tuk (very common means of transport in India), you can tie your scarf around the nose to avoid breathing bad particles or put on the hair to protect them from dust. Against pollution, a mask will always be more effective, but the scarf helps out.
For shoes, just one pair of basketball or sandals, depends of the season.
It can be useful
A refreshing spray of water for hot weather
Wipes to wash up quickly after the day (dust, sweat, pollution …)
A poncho if you go during monsoon
Remember to keep with you a photocopy and a scan of your passport and any other important paper, in case you lose the original.