Immigration on arrival
You will have to fill out a form that you will give to the officer when passing immigration (given by airline staff).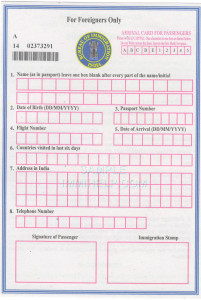 Enter the mobile number and the address of the main Guesthouse:
R-55, Top Floor, GK-1, New Delhi, 110048-India.
+ 91 11 46 06 60 54
Visa Online
If you have made an online visa application, you must go to the right services at the bottom of the immigration hall. Follow the signs or you will have to queue twice!