Qutub Minar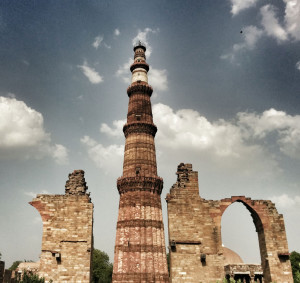 Qutub Minar is an architectural complex of religious monuments and tombs. The most important monument, also known as Qutub Minar is a tower and minaret.
Measuring 73 meters in height, it was built in 1193 by Muslim Sultan Qutb ud-Din to celebrate his victory on the last Hindu ruler of Delhi. The monument has been classified as a World heritage Site by UNESCO.
Price for Foreigner*: 250rs
Price for National: 10rs
Metro: Qutub Minar
Opening Hours: sundow to sunset
Open Daily
Humayun's Tomb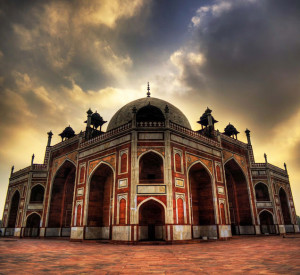 Surrounded by green gardens, this mausoleum is an architectural gem. It was built in the mid-sixteenth century by Haji Begum, the first wife of the Mughal Emperor Humayun. To honour the origins of his wife, he introduced elements of Persian architecture in the local style.
Arranged and refined over time, it served as a model for the sumptuous Taj Mahal. The monument has been classified as a World heritage Site by UNESCO.
Price for Foreigner: 250rs
Price for National: 10rs
Metro: JLN Stadium
Opening Hours: sundow to sunset
Open Daily
Jama Masjid
Overlooking Old Delhi, the "Friday Mosque" was the last architectural work of Shah Jahan, built between 1644 and 1658. Its central courtyard can hold more than 25,000 worshipers, making it the largest mosque in India.
For an additional fee of 100rs, it is also possible to climb to the summit of the southern minaret, where the view is splendid. Women must be accompanied. To enter the mosque, you should wear long clothes and pants.
Camera: 300rs
No tourist during prayer
Metro: Chawri Bazaar
Opening Hours: 7am-12pm / 1.30pm-6.30pm
Open Daily
Red Fort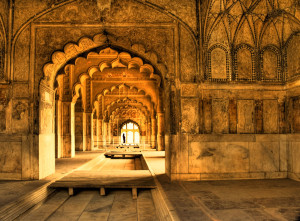 Entering the remains of this massive fort allows you to get an idea of what was the Mughal splendour was really like. Its walls are 18 meters high and its monuments embellished with marble dating from the heyday of this dynasty, a time of unmatched splendour.
The fort was built between 1638 and 1648 by Shah Jahan to protect his new capital. He was never able to enjoy it however, as he was driven from power by his son and imprisoned in Agra Fort.An evening sound and light show re-creates events in India's history connected with the fort. You can book your tickets online on www.theashokgroup.com
Price for Foreigner*: 250rs
Price for National: 10rs
Metro: Chandni Chowk
Opening Hours: sundow to sunset
Open Daily
Nizamuddin Dargah

This shrine is the high place of Sufism in Delhi. It hosts a permanent crowd of faithful followers, passing between the stalls of flowers and Indian spices. On Thursday evenings, you will be able to attend religious songs that are truly worth the visit ! You can then just lose yourself in the maze of streets to become enveloped in real India.
The many kebab stalls with thei meat skewers are not to be missed.Out of respect for the inhabitants of the area, you should wear long clothes and pants.
Free for everybody
Thursdays night, Sufi performance
Metro: JLN Stadium
Opening Hours: 24h/24
Open Daily
Akshardham Temple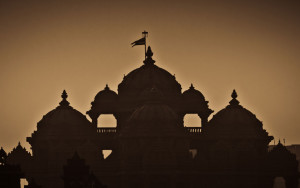 This ostentatious and lavish temple was inaugurated in 2005. Built in red sandstone and white marble, surmounted by domes, it offers a mix of traditional architecture from Orissa, Gujarat, Rajasthan and the Mughal Empire.
Inside, some 20,000 carved deities transport visitors through an almost psychedelic journey of Hindu mythology. You are not allowed to take pictures and bring anything inside the temple area. There are cloakrooms where you can leave your belongings.
Free
No camera allowed
Metro: Akshardam
Opening Hours: 9:30am-5:30pm oct-mar / 9.30am-6.30pm apr-sep
Closed on Monday
India Gate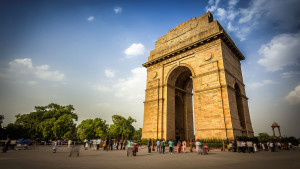 Located at the extremity of Rajpath, this monument is often crowded with both tourists and Indian families.
This 42 meters stone arch, designed by Luytens, honours the 90,000 soldiers of the Indian Army who fell during the First World War, in the operations in the North West Frontier at the same time than Anglo-Afghan War in 1919.
Free
Gate closed at night
Metro: Khan MarketOpening Hours: 24h/24
Open Daily
Lotus Temple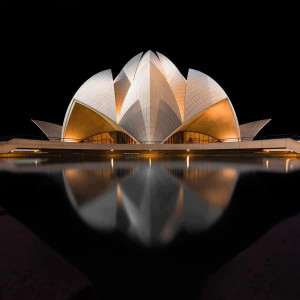 Designed by Irano-Canadian architect Fariborz Sahba, Lotus Temple (Bahai house of worship or 1986) is an ideal place to enjoy the silence – a rare experience in Delhi. The building reproduces the shape of a lotus flower with 27 petals covered with white marble. The temple hosts the followers of all faiths to pray and meditate in silence, according to their own beliefs.
Free
Metro: Kalkaji Mandir
Opening hours: 9am-7pm apr-sept / 9am-5:30pm oct-mar
Closed on Monday'
Lodhi Garden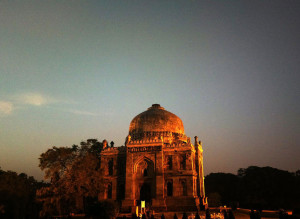 This large, peaceful and lush garden is popular with walkers. It is quiet weekday mornings but often crowded with picnickers on Sundays. It houses the tombs of the Sayyid and Lodi rulers, including the impressive Bara Gumbad XV century mosque, or the astonishingly distinctive graves of Muhammad Shah and Sikander Lodi.