Different ways to move in Delhi
Metro
The Delhi Metro is a safe and reliable way to travel around the city. There is a women section on first coach of the train if you do not feel confortable surrounded by men.
Price is between 9 to 30rs. Practical to go Old Delhi. A bit less in South Delhi a  the different metro lines don't connect with each other yet (coming soon!).
The express line to the airport is convenient to avoid traffic jam but you have to go to New Delhi station to catch it.
Auto-Rickshaw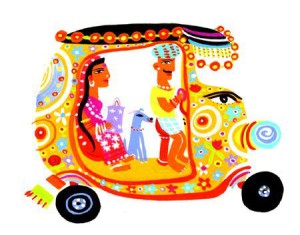 Tuk-tuks (for tourists) or auto for locals are the best for short distances. Just use google maps to figure out how far you are from your destination. Price is around 10rs/km. You should insist to the auto driver that you want to 'go by the meter' or "meter se". It is always a bit more complicated to have the meter for very short distance.
Taxi
Taxis are not allowed to circulate if they have not been pre-booked. You have 3 kinds of taxi:
Black and yellow cab. You should find a taxi stand near your place. A bit expensive, they are a good solution in case of emergency. You can also negociate a price if you need a daily taxi.
Taxi application. Uber has here a competitor a bit cheaper
Post-paid taxi. The most expensive but really reliable
Full day taxi, or going on a trip
For full day taxi or to go outside of the city, we recommand Arun! www.arun-taxi-driver-india.in. The sweetest taxi driver from Himachal Pradesh!
You can also try www.blablacar.in for cheapest option.
Self Drive
Want to drive yourself? www.mylescars.com
Cycle Rickshaws
For really short distances, you can use cycle rickshaws.